After the National Day holiday, the overall situation of power and production restriction in the main production areas eased slightly, but it was still severe: Qinghai's power rationing policy was implement on October 10 in form of dynamic power restriction and real-time adjustment; Zhongwei District of Ningxia began to stop production for three days from Thursday; Fugu area of Shaanxi still needed to be limited by about 50%; Power rationing was normalized in Inner Mongolia, and electricity prices rose.
From Tuesday to Thursday, the futures market fell continuously (by 10.01% on Wednesday) and rebounded slightly on Friday. The spot market was relatively stable and mostly wait-and-see, with 72# quotation ranges from 16000 to 17000. The transaction was general, and it was difficult to find low-cost goods in the market, but some traders showed strong willingness to ship.
The weekly opening price of 2201 main contract of ferrosilicon futures this week was 17,666, the highest price was 17,950, the lowest price was 15,100, the closing price was 15,982, the settlement price was 15,716, the trading volume was 1,968,426, and the position was 94,768, a decrease of 1.99%.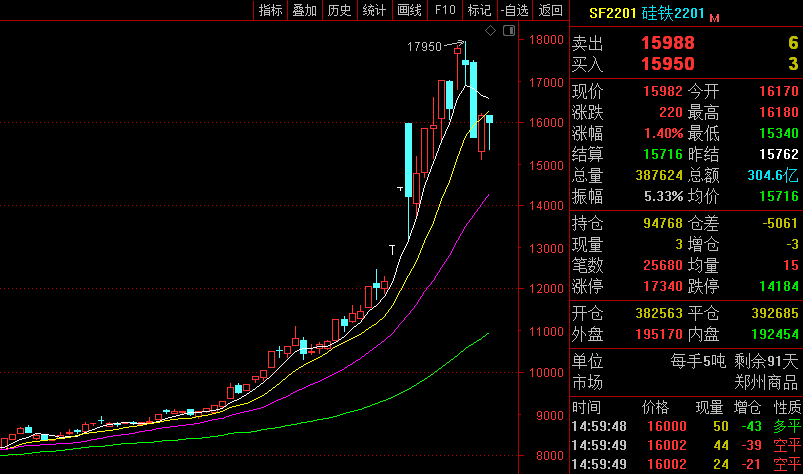 At present, the ferrosilicon inventory of steel mills is general, and some steel mills still have procurement demand. In October, local steel mills began to resume production one after another, and the output rebounded slightly. According to data of China Iron and Steel Association, in early October, the daily crude steel output of key steel enterprises was 1.8732 million tons, an increase of 5.9% month on month; The steel inventory was 12.8426 million tons, an increase of 888200 tons, an increase of 7.43%; An increase of 1.2216 million tons over the beginning of the year, an increase of 10.51%; Compared with the same period last year, it decreased by 7.5005 million tons, down 5.52%.
But at the same time, the heating season is coming, and the production reduction of steel enterprises will continue, which will also affect the demand for raw materials.
This week, the domestic metal magnesium market operated stably, the spot inventory of the factory was low, and the factory was willing to stabilize the price with the support of the high cost of raw materials; However, the downstream purchases and transaction was general. On Friday, the ex-factory cash quotation including tax of 99.9% magnesium ingots in Fugu area was about 48000 yuan per ton, and the final price was about 47000 yuan per ton.