After returning from the May Day holiday, the ferrosilicon futures continued to decline rapidly, and the spot quotation was difficult to maintain high and kept falling. In terms of manufacturers, their production enthusiasm has been high recently, and the operating rate and daily average output have increased steadily. Under the situation of large market fluctuation, small inventory and sluggish transaction, the confidence of the supply side was insufficient, and the cautious wait-and-see mood of the demand side was strong. The new round tender price of a steel plant in Hunan shrank to 9980 yuan per ton in May. The quantities of overseas orders have decreased, and the export price has also declined. The ferrosilicon market lacks favorable factors to stimulate in the short term, or would continue to operate weakly and stably. Pay attention to the futures trend and the change of supply-demand relationship.
The weekly opening price of 2209 main contract was 9904, the highest price was 9984, the lowest price was 9224, the closing price was 9240, the settlement price was 9460, the trading volume was 446867, and the position was 146596, down 7.12%.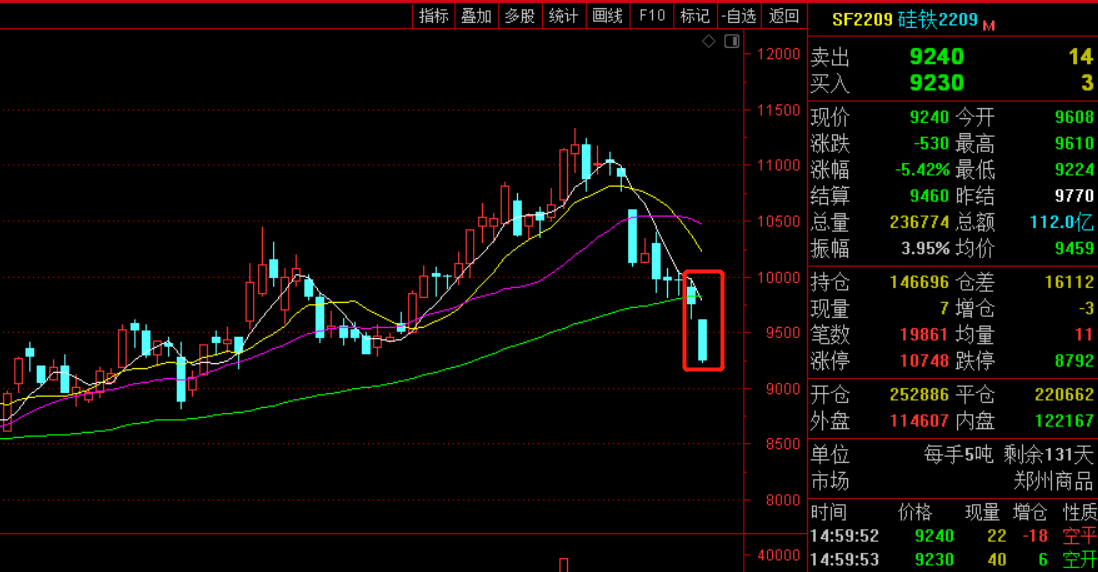 In terms of downstream steel mills, according to the data of China Iron and Steel Association, in late April 2022, key iron and steel enterprises produced 23.5867 million tons of crude steel, with a daily output of 2.3587 million tons, an increase of 5.50% month on month. At the end of late April, the steel inventory was 18.0887 million tons, a decrease of 1.5785 million tons or 8.03% over the previous ten days; An increase of 1.4687 million tons over the end of last month, an increase of 8.84%; An increase of 6.7918 million tons over the beginning of the year, an increase of 60.12%; An increase of 4.6749 million tons over the same period last year, an increase of 34.85%; An increase of 204800 tons or 1.15% over last year's peak (17.8839 million tons in early March). At present, the domestic prevention and control situation has gradually improved, some steel mills have resumed production, and market confidence has recovered, but there are still many uncertain factors, so we should remain cautious in optimism.
In terms of metal magnesium, with the end of the May Day holiday and some downstream users entering the market for procurement, the manufacturers' reluctance to sell was obvious, and the magnesium price rose steadily, but the high price was difficult to be accepted as always. The actual transaction has not improved significantly. There was a strong wait-and-see atmosphere, and pay attention to the follow-up demand. At present, the ex-factory cash quotation including tax of 99.9% magnesium ingots was about 37000 yuan per ton.