Insufficient downstream demand; short-changed cost side with the price of semi-coke about 1700-1750 yuan per ton; Near the end of the year, the news of resumption of production in the main production areas came again, the supply side was relatively stable, and there is a lack of good news for the ferrosilicon market to rise. This week, ferrosilicon futures continued to play the game and run in shock consolidation; The spot market maintained a weak operation. Manufacturers were unwilling to reduce prices due to cost factors. The quotation of 72# ferrosilicon in the main production areas ranged from 8000-8300 yuan per ton, and there was a strong sense of cautious wait-and-see.
The opening price of 2205 main contract of ferrosilicon futures this week was 8550, the highest price was 8728, the lowest price was 8132, the closing price was 8446, the settlement price was 8372, the trading volume was 921469, and the position was 74394, a decrease of -1.40%.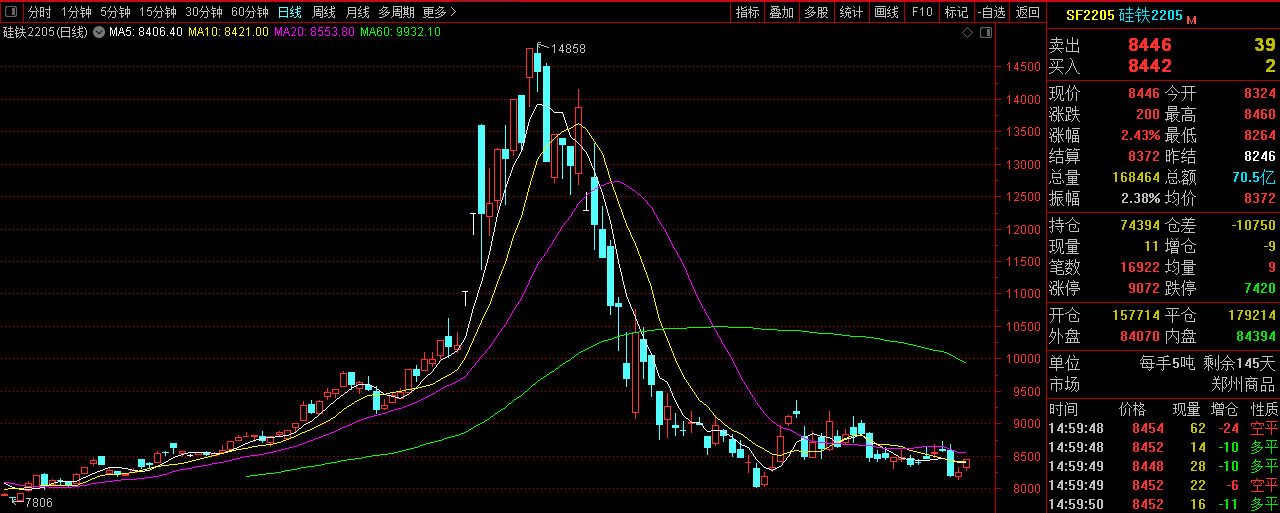 As for the steel market, the temperature dropped sharply, and the downstream demand for steel was further weak. This week, both the supply and demand of the domestic steel market were weak, and the operation was volatile. According to the statistics of China Iron & Steel Industry Association, the average daily crude steel output of key steel enterprises was 1.8905 million tons in mid December 2021, with a year-on-year decrease of 14.13%; In mid December, the steel inventory of key steel enterprises was 13.57 million tons, an increase of 227500 tons on a month on month basis, an increase of 1.71%; 357200 tons less than that in the middle of last month, a decrease of 2.56%; An increase of 1.0857 million tons or 8.70% over the end of last month; An increase of 1.9489 million tons over the beginning of the year, an increase of 16.77%; An increase of 515000 tons over the same period last year, an increase of 3.94%; The social inventory of five major varieties of steel in 20 cities was 7.84 million tons, a month on month decrease of 430000 tons, a decrease of 5.2%, an increase of 540000 tons over the beginning of the year, an increase of 7.4%, and an increase of 550000 tons over the same period last year, an increase of 75%.
In terms of magnesium market, affected by environmental supervision, magnesium prices rose sharply on Thursday and Friday. At present, the production in Shaanxi is normal, but the possibility of limited production and shutdown is not ruled out in the later stage. On Friday, the ex-factory cash quotation including tax of 99.9% magnesium ingots in Fugu area was about 50000 yuan per ton.