The domestic ferrosilicon market was weak this week, the production and supply side gradually recovered, and the cost support of raw material semi-coke was weakened. Although inquiries increased, the actual transaction was still poor. Some suppliers had a strong willingness to make deals at low prices, the spot quotation was continuously reduced, and the electricity price in the main production area rose, it is reported that the costs of manufacturers in Inner Mongolia was over sales revenue. In terms of steel mills, due to the consideration of limited production, the bidding volume reduced, and the bidding price was lower and lower based on the pricing of representative steel mills, and some steel mills were bearish on the market and delayed purchasing; Although the futures rebounded on Thursday, the overall trend was still downward. The confidence of ferrosilicon market was seriously insufficient, and it's expected for the market to continue to be under pressure in the short term.
Downstream, under the pressure of falling prices of iron ore, coke and other raw materials, the price of steel billet in Tangshan has also been greatly reduced recently. At the same time, affected by the weak demand in the off-season, the enthusiasm of downstream procurement was significantly weakened, the transaction situation was poor, most of them were wait-and-see, the market sentiment was pessimistic, and in the short term, negative factors still prevailed. According to incomplete statistics, 28 steel mills issued maintenance plans in November.
In the second half of this week, the domestic magnesium market rebounded from about 30500 yuan per ton at the beginning of the week to about 33000 yuan per ton. At present, the spot inventory of magnesium market was not much, the downstream demand was gradually improving, and the market sentiment was stronger. On Friday, the ex-factory cash quotation including tax of 99.9% magnesium ingots in Fugu area was about 33000-33500 yuan per ton and there was a strong willingness of suppliers to support the price.
The opening price of 2201 main contract of ferrosilicon futures this week was 9760, the highest price was 9910, the lowest price was 8750, the closing price was 9052, the settlement price was 9176, the trading volume was 855800, and the position was 79922, an decrease of -7.44%.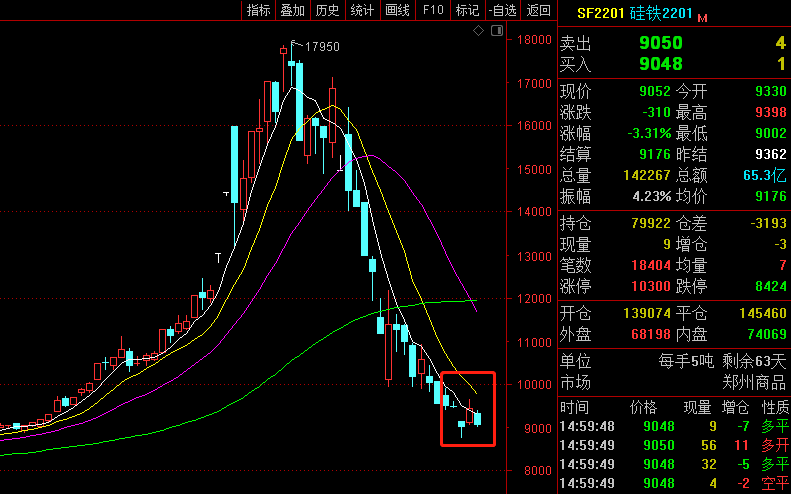 Below are ferrosilicon futures main contract 2201 daily specific performances of this week:
| | | | | | | | | |
| --- | --- | --- | --- | --- | --- | --- | --- | --- |
| Date | Opening price | Highest price | Lowest price | Closing price | Settlement price | Trading volume | Positions | Range |
| 11.8 | 9760 | 9910 | 9402 | 9504 | 9570 | 187971 | 85291 | -2.82% |
| 11.9 | 9500 | 9600 | 9450 | 9478 | 9526 | 127615 | 81786 | -0.96% |
| 11.10 | 9138 | 9150 | 8750 | 9010 | 8946 | 191655 | 89742 | -5.42% |
| 11.11 | 9126 | 9676 | 9056 | 9450 | 9362 | 206359 | 83115 | 5.63% |
| 11.12 | 9330 | 9398 | 9002 | 9052 | 9176 | 142267 | 79922 | -3.31% |