Yulin Mumicipal Development and Reform Commision of Shaanxi Province issued a notice on ensuring the completion of the target task of energy consumption control in 2021. From September to December, most enterprises in Fugu reduced their output by 50%, involving 18 ferrosilicon enterprises, and 23 metal magnesium enterprises; in Shenmu, there were 8 ferrosilicon enterprises and 9 metal magnesium enterprises involved. There was also news of production restriction in Zhongwei, Ningxia and Qinghai. The ferrosilicon futures rose again this week, and the opening price of ferrosilicon futures 2201 contract of this week was 11226, highest price was 12462, lowest price was 11162, closing price was 12190 and the settlement price was 12080. The trading volumes were 3569715 and the positions were 219907.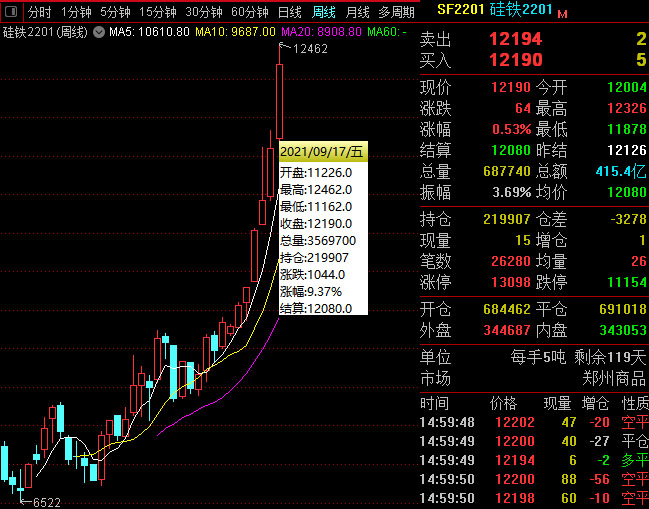 Strict production restrictions in main production areas, high support of futures, continuous rising of raw material semi-coke price (the price of small size materials of enterprises in Shaanxi Shenmu raised to 1980 yuan per ton on Thursday), tight spot supply and non-reduced downstream demand have injected strong bullish confidence into the ferrosilicon market. Manufacturers were reluctant to sell and traders were in a strong wait-and-see mood.
Downstream, according to data of the National Bureau of Statistics, in August 2021, China's crude steel output was 83.24 million tons, a year-on-year decrease of 13.2%; The average daily output of crude steel was 2.685 million tons, down 4.1% month on month; According to data of CISA, in early September, key iron and steel enterprises produced 20.4488 million tons of crude steel, with a daily output of 2.0449 million tons, a month on month decrease of 0.38%. At present, steel mills in Jiangsu and other places strictly implement the production restriction policy, and there's still the possibility of further decline in supply. Since September, the overall steel demand has warmed up slightly, but it's not stable. For the time being, we can not be too optimistic. The market as a whole was in the consolidation stage.
Under the strict control policy of energy consumption in Yulin, the domestic magnesium market soared this week! It exceeded 40000 yuan per ton on Thursday (it is reported that 44000 yuan per ton has been traded on Friday, exceeding 37000 yuan per ton in 2008 and 42000 yuan / ton in 1995). Currently, the supply side of the magnesium market was still tightening, the downstream demand followed up, and the magnesium price was expected to rise further. However, the market was also facing the stage of adjustment and stability of supply-demand balance.