Ferro-silicon prices reached the highest level since at least 2003 in the past week, bolstered by a wide range of supply-side issues.
Elevated freight costs, shipping delays, higher replacement costs, and tight domestic inventories all contributed to ferro-silicon reaching fresh record highs on 7 October.
US ferro-silicon (75pc) prices increased to $2.60-2.80/lb from $2.20-2.30/lb on 30 September.
Prior to 2021, the highest level the alloy reached was $1.47/lb in June 2008, nearly half current prices.
Steel mills can typically balance their consumption of ferro-silicon, ferro-manganese, and silico-manganese against one another to maintain the lowest possible cost.
The last time silico-manganese prices hit record highs of $1.18/lb in May 2008, consumers switched their melts to a greater share of ferro-silicon to compensate, which subsequently brought ferro-silicon prices to a 29¢/lb premium to silico-manganese the following month.
Argus' silico-manganese prices were also $1.18/lb in the latest assessment, but currently ferro-silicon holds a $1.52/lb premium to the alloy. As a result, market participants expect the opposite trend moving forward with mills increasing consumption of silico-manganese in lieu of ferro-silicon, especially amid record high ferro-manganese prices.
That said, suppliers with ferro-silicon inventory have been reticent to offer out too much of their stocks because of limited replacement alloys available moving forward and because shipping schedules remain uncertain.
Additionally, mills have come forward with annual and quarterly contract negotiations, in the hopes of securing a stable supply for 2022.
As a result, sellers have been uncertain of where to offer on intertrade or mill spot market inquiries. Offers ranged from $2.50-3.00/lb in the week leading up to the 7 October assessment, much wider than the average price spread of 3¢/lb dating back to March 2003.
Sellers expect further upward momentum as North American production capacity cannot meet demand and suppliers will need to import to restock inventory. In the first eight months of the 2021, US imports of ferro-silicon (under 55pc Si) declined by 3pc to 103,427 metric tonnes, despite the recovery in steel capacity utilization rates. Nearly half of these volumes came from Russia, followed distantly by Brazil and Kazkhstan.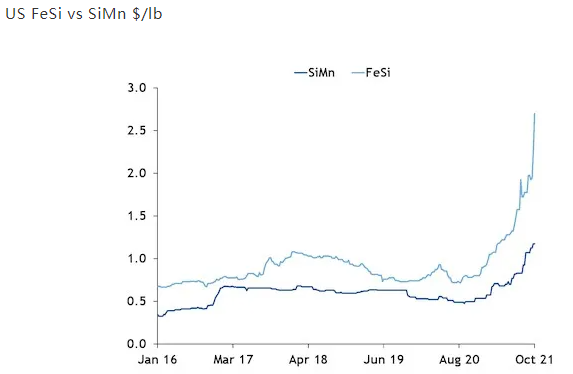 Source: Argusmedia