[Raw Materials Market] Market news: on December 13, Shenmu Semi-coke Group issued a notice: Since 0:00 on December 15, 2020, the price of semi-coke will be adjusted again, including 900 yuan per ton of medium-sized materials and 850 yuan per ton of small-sized materials.
[Spot Market] The prices of raw materials such as semi-coke are strong (market news, Shaanxi manufacturers began to raise their prices at the beginning of this week at the call of Shenmu Semi-coke Group), the price of steel bidding is high, and the spot is still tight, the ferrosilicon spot market was strongly supporting. On the other hand, the futures market continues to decline, and the impact of Ningxia's production restriction has weakened. In addition, the steel bidding in December entered the end and this week, the market sentiment gradually tends to be rational, focusing on the change of supply-demand relationship, the change of ferrosilicon production cost (including freight condition), futures market trend and the new round of steel bidding.
[Ferrosilicon Futures 2101 Contract] Opening price of ferrosilicon futures 2101 contract of this week was 6,440, highest price was 6,566, lowest price was 6,308, closing price was 6,472 and the settlement price was 6,464. The trading volumes were 467,900 and the positions were 17,455.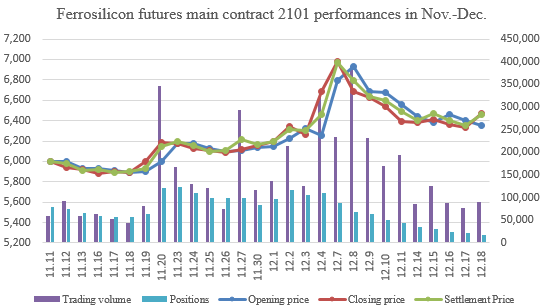 [Steel Market] The end-use demand is weak in the off-season. Under the background of continuous high production and gradual accumulation of stocks, the pressure on the supply side may gradually increase. Data shows that the steel consumption this week has changed from increase to decrease. Affected by the iron ore futures market, the steel market this week has fluctuated and adjusted, with both ups and downs.
[Metal Magnesium Market] The actual demand of downstream shows a weak trend. Although coal price, ferrosilicon and other raw materials prices are high, the price of magnesium will be in a small and medium range to seek a balance between supply and demand in the short term. Current cash quotation including tax of 99.9% magnesium ingots in Fugu area was around 15300-15400 yuan per ton.

-----------------
-----------------
Scan QR code for registration
----------------
-----------------