[Steel tender] Steel tender in September is coming to an end. As the National Day is coming, it is expected that some steel mills will ahead of schedule to start the tender in October.
[Raw material market] According to market sources: the closure time of mines in Qinghai has been prolonged, and the supply of silica is in a tense state. The price of silica in some major production areas has increased, and may continue to rise. In addition, the price of raw materials such as semi-coke is also rising, and the production cost of ferrosilicon moves up.
[Spot market] This week, the ferrosilicon market continued to maintain stable operation, the supply and demand sides generally remained stable, the National Day was approaching, the atmosphere of goods preparation was gradually strong, manufacturers arranged more orders for production, the spot was still tight, and the quotation remained firm under the support of cost. However, delivery warehouse inventory flowing to the market make the wait-and-see sentiment increased and it is expected that the ferrosilicon market to maintain stable in the near term. Pay attention to the changes of futures market and delivery warehouse inventory.
[Ferrosilicon futures 2010 contract] Opening price of ferrosilicon futures 2010 contract of this week was 5,626, highest price was 5,686, lowest price was 5,568, closing price was 5,614 and the settlement price was 5,602. The positions were 54,304 and the trading volumes were 224,457.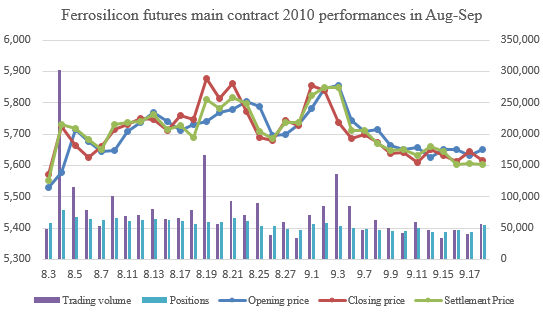 [Steel market] According to the data of the National Bureau of Statistics, in August 2020, China's crude steel output reached 94.85 million tons, an increase of 8.4% year-on-year. In August, the national average daily crude steel output was 3.06 million tons, up 1.59% month on month; from January to August, China's crude steel output was 688.89 million tons, with a year-on-year increase of 3.7%. At present, the supply, demand and inventory of steel mills didn't change much, and the demand for ferrosilicon remains stable. However, the production restriction policies for environmental protection, capacity replacement inspection and other factors have brought a certain inhibition on the supply side. It is expected that the growth of steel production in the fourth quarter will slow down, and the actual consumption side will enter a stable period. In the short term, the steel market may be in a shock consolidation period.
[Metal magnesium market] Production situation is stable, downstream demand continues to be weak, inventory accumulated, metal magnesium prices continue to bear downward pressure. Current cash quotation including tax of 99.9% magnesium ingots in Fugu area was around 12300-12400 yuan per ton.
*********************************
The 17th China Ferro-Alloys International Conference
September 23-25 Chongqing, China